Septeni Group Made an Equity Participation in HOMMA, a Startup Housing Company from Silicon Valley
Septeni Holdings Co., Ltd. (Headquarters: Shinjuku-ku, Tokyo; Representative Director: Koki Sato, Securities Code: 4293) has announced an equity participation in HOMMA Inc. (Founder & CEO: Takeshi Homma), a startup housing company from Silicon Valley.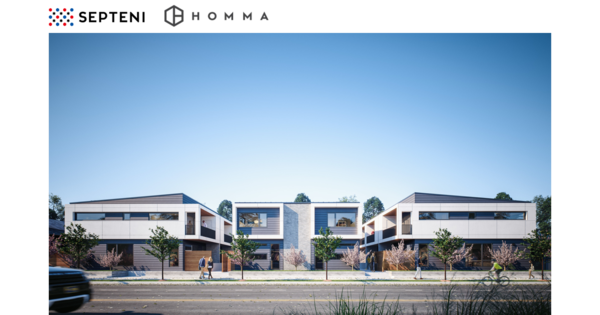 The Septeni Group has developed the media platform business and other new businesses while setting the digital marketing business as its core. The Group also develops the new business segments, following the mid-term management policy, "Domain Expansion."
HOMMA is established in Silicon Valley to make an innovation in American housing market. It has strengths such as design to improve user experiences, smart home technology and an advanced construction method. Collaborating with materials and products that Japanese housing industry boasts to the world, the Company aims to realize new life style by providing "Urban premium compact housing" targeting millennials.

The Septeni Group has decided a capital participation in HOMMA, sympathized with their mission to "make people's lives futuristic through innovative housing."
The Group supports HOMMA to achieve the innovation that they are aiming at in American housing industry and the new life style, by promoting "HOMMA X" project in Portland, the US, together.

*HOMMA X:
Project to develop smart community consisting of a 18-rental townhouse targeting millennials in Portland, Oregon, the US.

About HOMMA
HOMMA is an American startup company established in Silicon Valley in 2016. Conscious of the fact that in Silicon Valley where innovative technology is being developed, little has been changed over the past 100 years with regard to the housing industry, the Company is developing the business based on the mission of "making people's lives futuristic through innovative housing". The first project is "HOMMA ONE", a prototype housing with built-in smart home devices and Japanese housing methods and products, completed in June 2020.

Inquiry:
Septeni Holdings Co., Ltd., Public Relations Division
E-mail: koho@septeni-holdings.co.jp

■ Profile of Septeni Holdings Co., Ltd.
Business: Corporate management and overall control of group companies through ownership of shares and other forms of equity.
Head office address: Sumitomo Fudosan Shinjuku Grand Tower 30F, 8-17-1 Nishishinjuku, Shinjuku-ku, Tokyo, Japan
Representative: Representative Director, Koki Sato
URL: https://www.septeni-holdings.co.jp/en/

Profile of HOMMA, Inc.
Business: Smart home business
Head office address: Hayward, CA, the United States
Founder & CEO: Takeshi Homma
URL: https://www.hom.ma/