Top Message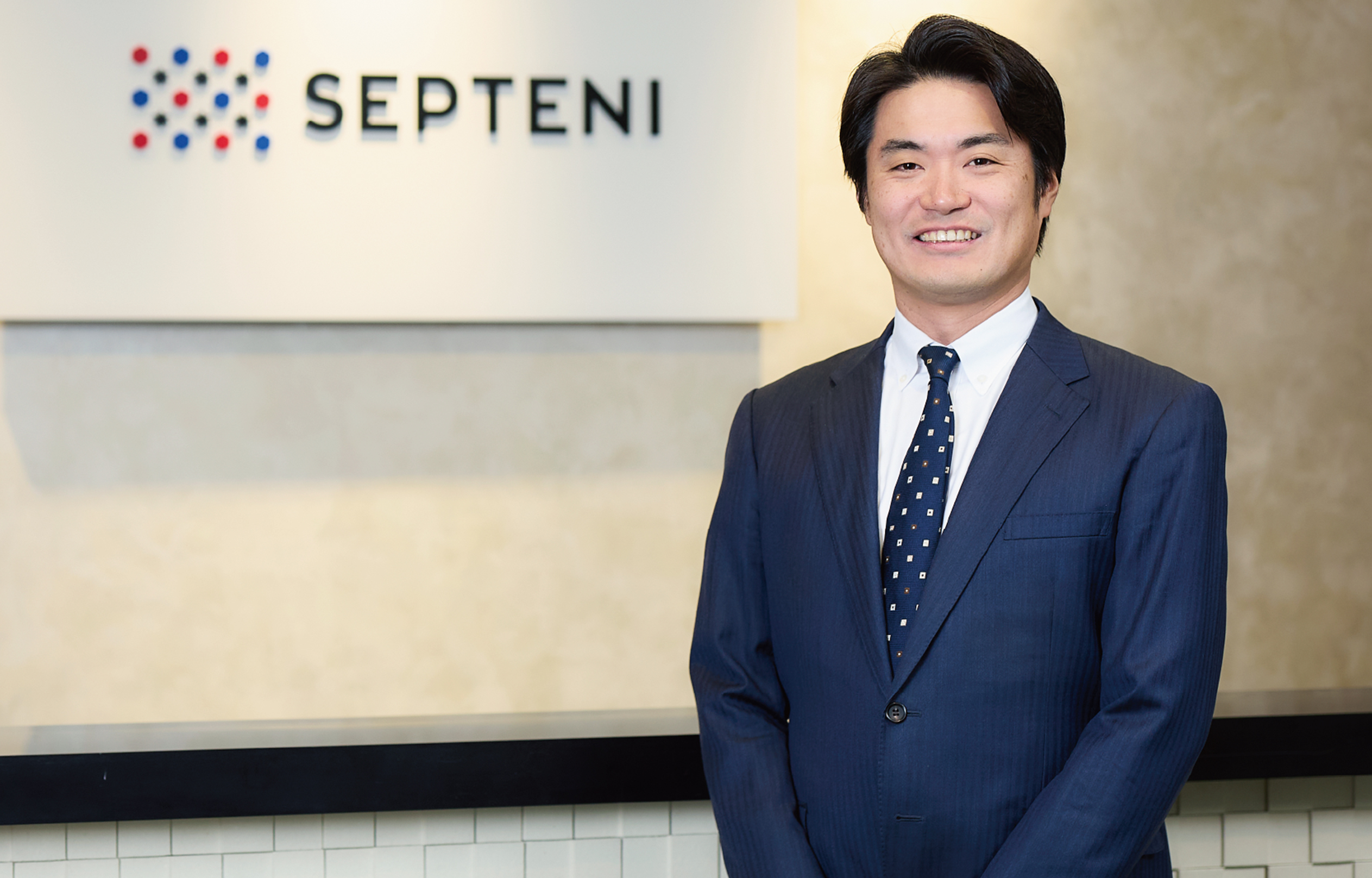 We are fortifying our management base with the aim of enhancing our corporate value over the medium- to long-term.
Increasing corporate value by actively investing in human capital
Human capital management has been attracting attention in recent years as a way for companies to raise their corporate value by investing in their human resources. The Septeni Group has considered its people (employees) to be its primary capital assets since its founding in 1990, and our aggressive investment in our human resources has led to steady growth for our business. Our updated Medium-term Business Policies call for investing even more in our human capital and places it at the center of strengthening our management base.
 Our investment in human capital includes allocating ¥680 million during the fiscal year ending December 2023, which includes raising the fixed base salaries of full-time employees at nine of our group companies beginning in April 2023. This upfront investment will increase our competitiveness in the labor market, enable us to attract talented individuals, and further enhance our reputation as an organization that provides abundant job satisfaction.
 In the short term, the salary increases will reduce profit return to shareholders and investors. However, we fully believe that securing a large corps of outstanding human resources that will be active contributors to our operations for a long time will enable us to generate greater value in the medium and long term. The growth in operating profit and cash flow that this will create will ultimately allow us to provide even greater profit return. In addition, a rising share price as our earnings growth should also increase the asset value of shareholdings. This strategy has been successful in the past. In October 2017, we increased monthly fixed salaries at five group companies by roughly 20%. Profits declined temporarily, but five years later in fiscal year ended September 2022, sales per employee had increased by 37% and operating profit per employee had grown by 480%. We believe taking this long-term approach to investment in human capital will ultimately be beneficial not just for the company but for our shareholders and investors as well.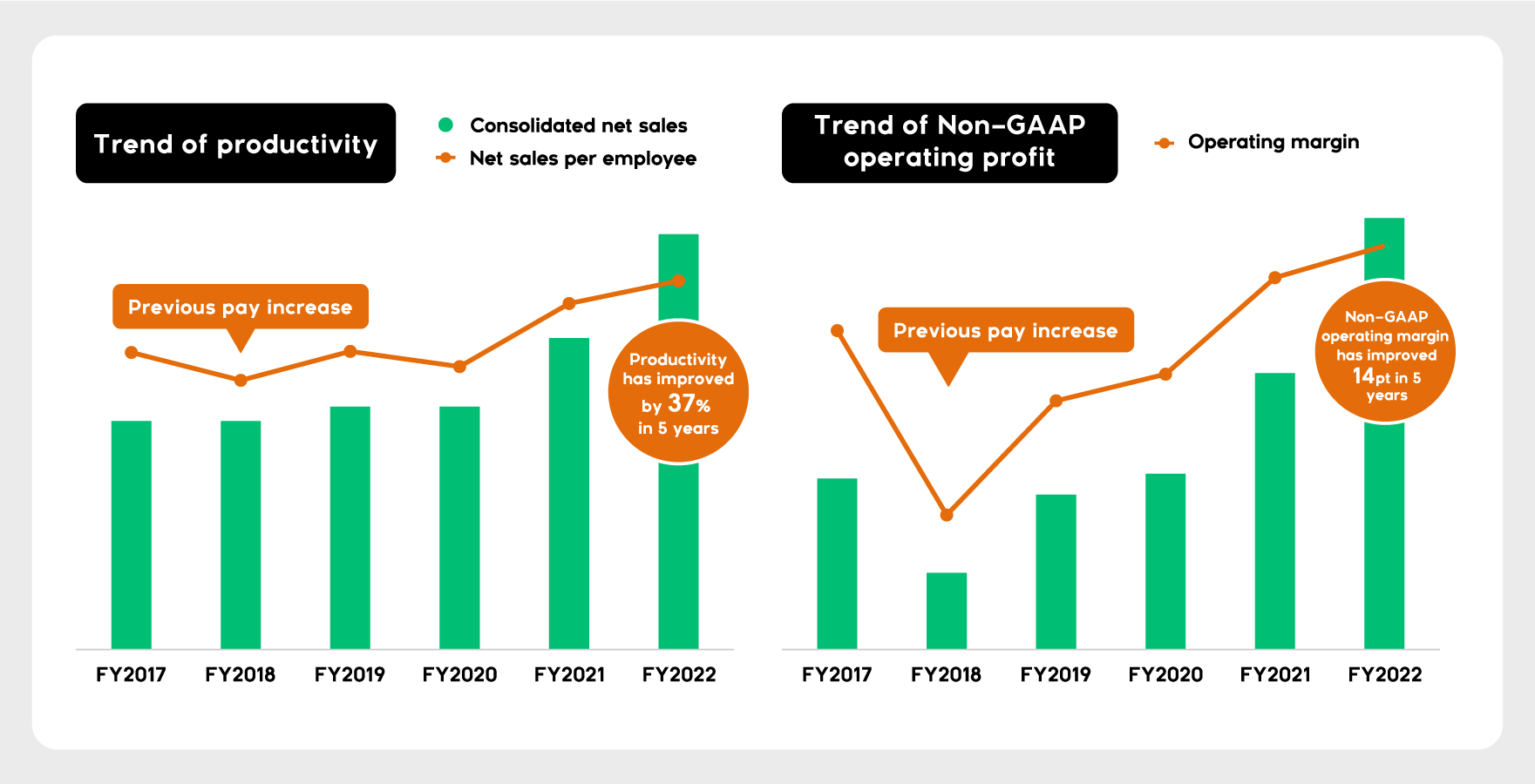 Launching a new business driven by our HR technology
The strength of the Septeni Group's human capital management comes from our being among the first to fully integrate digital technology into our HR systems. Human capital is an intangible asset, and it can be very difficult to accurately assess its true value. We developed an original HR system that provides visualization and quantification of human capital assets. Our system applies a 360-degree peer review evaluation system incorporating independent assessments between employees, which the system uses to produce a quantitative visualization of objective evaluation of each employee. The information can then be used to verify outcomes, such as if productivity remained high after adopting a work-from-home structure during the pandemic, and to make investment decisions, such as by conducting simulations of the effects of a major investment in human capital by raising base salaries as we plan to do.
 This HR technology system has been fundamental to our Company's growth, and in the fiscal year ended September 2021 we brought our technology and expertise together when we launched the HR technology business. In other words, we began marketing our intellectual property outside the Company. The HR technology business is part of the focus theme in the latest update to our Medium-term Business Policies of "Expanding into New Business Segments." We have also stepped up marketing of our onboarding service "HaKaSe Onboard," which utilizes our in-house developed "HaKaSe" AI matching system, and the number of client companies is steadily growing.
Revising the Group corporate philosophy
The steps we took to strengthen our management foundation included revising and announcing our corporate philosophy in October 2022. The revision was prompted by an outside director comment that "the current vision doesn't reflect that the Group is a collection of numerous businesses and doesn't show the direction the Group is going in."
 When we formulated the previous vision about 20 years ago, we intentionally chose words with a high degree of abstraction because we wanted to explore as broad a range of business domains as possible. Since then, the Group has achieved some form of business in our operating domains, and we thought we needed to revise our philosophy with wording that has more specificity and "texture" so our various stakeholders could better understand our vision.
 The new corporate philosophy took about a year to finalize as we searched for words to describe the ideal image and the worldview that we want to embody as a group by asking for opinions and ideas from all layers of our organization from younger employees to business directors, executive officers, and outside directors. The new vision has three parts, with each one clearly defining our ideal image and the role we want to be playing in society in the medium and long term. From this point, we will need to strongly link the corporate philosophy to the growth strategies for each of the businesses.
Deepening the Dentsu Group alliance to fortify our DX support capabilities
The Group has set "Domain Expansion" as a medium-term theme for sustained growth, and is advancing strategies on this theme in each business.
 The strategic plan in the core Digital Marketing Business is to make our DX support for clients even stronger. One of the keys to this plan will be deepening the alliance with the Dentsu Group that we began four years ago. The alliance has steadily progressed over the three years since the start of the collaboration, and we are now at the stage where we want to raise our business scale expansion to the next level. We plan to do this by integrating our online (digital advertising) and offline (mass advertising) services to provide clients with more comprehensive marketing services.
 Another key is to fortify our lineup of products and solutions. We will differentiate our offerings in the industry by applying DX support catered specifically to the marketing domain, such as by providing AI products to boost advertising effectiveness and engineering services for constructing user data platforms of our client companies.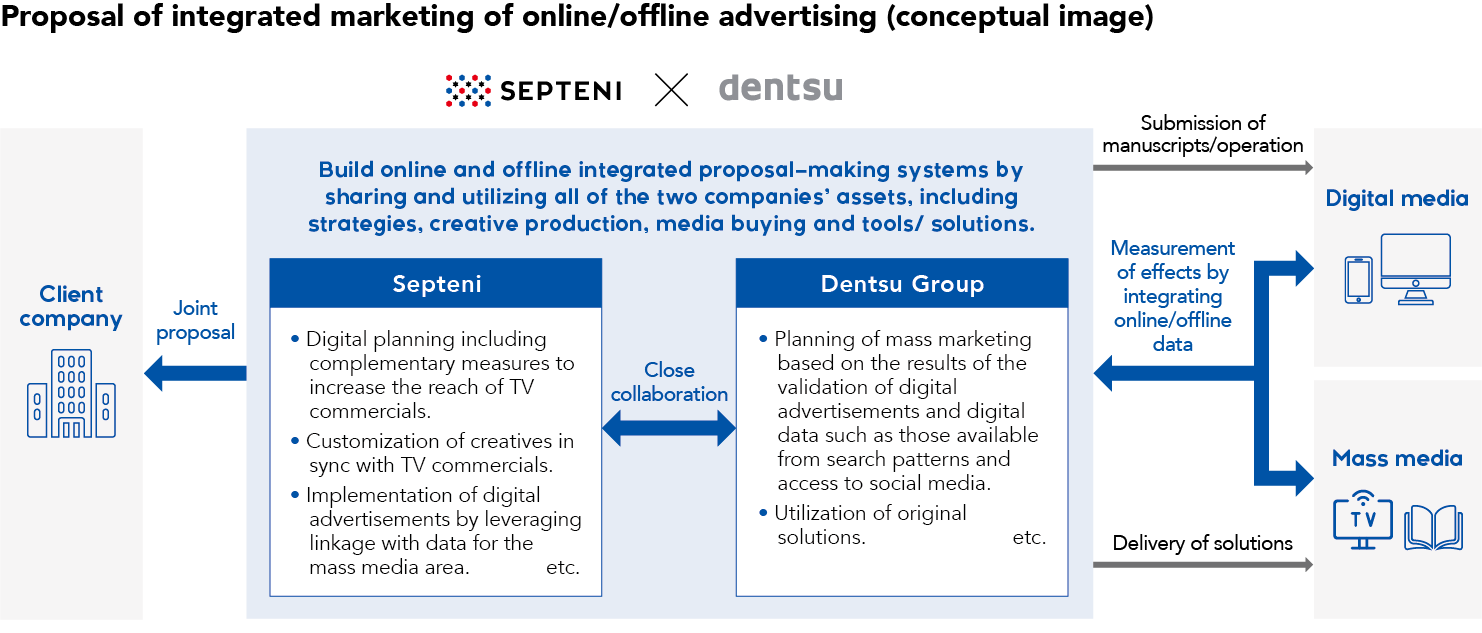 Leveraging our unique strengths to increase our intellectual property value
The strategic plan in the Media Platform Business is to accelerate the growth of the IP Platform Business (formerly the Manga Content Business). The key point will be what we can do to increase the value of the Group's intellectual property (IP). Our Group strength is our unique ecosystem built around on a "studio" where artists and creators gather to create content and a vertical integration model that enables us to develop the original IP into a wide variety of proprietary media ranging from digital and printed books to related goods and video distribution sites, including for our own media. We are creating closer and more deeply integrated ties between the studio structure and platformer business so we can maximize the value of our IP assets by creating more contact points with users and enhancing user experience value.
 One way we will maximize our IP asset value is to focus on developing content for the Webtoon format, because we believe it will play a major role in our future. Webtoon is a new manga presentation format featuring vertical script and full color graphics that are highly suited for viewing on smart devices. Already valued at roughly ¥500 billion, the global market for Webtoon and related services is expected to grow 700% over the next seven years. The production process is similar to manga, and we believe we can leverage our strengths and expertise we have accumulated in manga content to increase our presence in this high-growth market.

Aiming for further heights as a corporate group overflowing with the venture spirit
The Septeni Group encompasses over 30 companies. Following our Group Mission "To inspire the world with entrepreneurship," each of our companies strives to maximize the value they offer presenting a distinct identity to each of their customers. I consider this autonomous and decentralized organizational management structure to be one of the Group's major features and strengths.
 The revised corporate philosophy will serve as a foundation and overall guide for all Group companies to leverage our organizational structure to move toward the same vision of the future. The Septeni Group is overflowing with the venture spirit, and we look forward to broadening our business domain as we seek to continue offering higher value to clients and enhancing our corporate value.