COMICSMART Contracts Business Association with a Blockchain Venture Company Gaudiy -To Realize the world's first data ownership type e-book (*1) by utilizing public blockchain technology-
COMICSMART Inc. (Headquarters: Shinjuku-ku, Tokyo; Representative Director: Koki Sato), a consolidated subsidiary of Septeni Holdings Co., Ltd. (Headquarters: Shinjuku-ku, Tokyo; Representative Director: Koki Sato, Securities Code: 4293), contracts business association with a blockchain startup company Gaudiy Inc. ( Headquarters: Setagaya-ku, Tokyo; Representative Director and President: Yuya Ishikawa). The Association will realize the world's first data-possession type of e-book using the method of public blockchain and develop business together.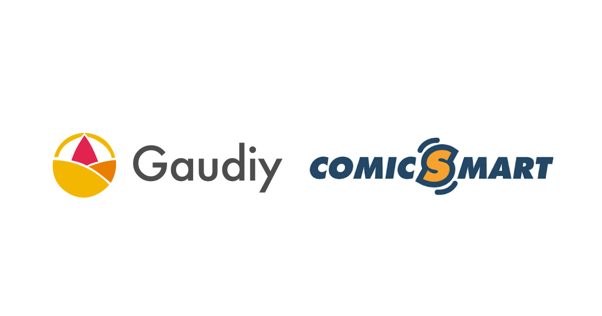 COMICSMART has a mission "to increase the value of manga artists' profession and make it a dream job for children" and has been working on fostering and supporting manga artists and operating a manga app called "GANMA!" with the aim of creating excellent manga works that originated on the Internet.

Gaudiy promotes "creation of new user experiences" and "building business models" in the entertainment industry by using digital technologies such as blockchain. The Company is working with a variety of partner companies including major publishers and music labels to resolve specific issues.

COMICSMART and Gaudiy have been working to build "GANMA! Community", a co-creative fan community where readers of GANMA! can support manga artists and works by utilizing "Gaudiy", a decentralized communication platform that combines community and blockchain technologies. As the first stage of the beta version, the community for the popular work "Katorusushindoromu (Cat Girl Syndrome)" was opened to the public, and many new core fans and communication among fans within the community were created, and certain results were confirmed in the development of the community.

As a result of this business alliance agreement, COMICSMART and Gaudiy will launch a new e-book business that utilizes blockchain technology and allows users to own data.

To prevent unauthorized copying of data, many e-books in the market now require users to purchase "right to read" rather than "data itself" of books. The rights are governed by the DRM (Digital Rights Management) mechanism, which uses proprietary specifications for each provider of e-books (Kindle, etc.).
Therefore, users can only view books on terminals and devices designated by each company, and they cannot freely move book data or buy or sell used books. In addition, if the service is terminated due to the circumstances of the provider, it will not be available for viewing.
In addition, by not allowing the possession of data, the experience that only paper books have, that originated from the possession of paper books, such as buying and selling books, sharing books with friends, collecting books, and storing comic books autographed by authors, is fading away.

In the "Data possession type e-book" that will be launched by COMICSMART and GANMA! this time, in order to realize "possession" while preventing unauthorized copying of data, the two will construct and provide an autonomous distributed system of distribution in which users can have ownership of books themselves by utilizing blockchain technology.
This allows users to own and read books regardless of the convenience of the publisher and to buy and sell books in the same way as paper books. In addition, even if e-books are sold in secondary markets, a system will be established in which appropriate profits will be returned to right holders (publishers, authors, etc.).

At the same time, the two will work on realizing a new e-book experience that goes beyond reading. Specifically, it will publish individual books in its unique format as NFT (Non-Fungible-Token) (*2), enabling new experiences such as "autographed version only in e-books" "selling exclusive books to those who bought the first edition" and "adding or changing the contents after sales."

In the future, the Company will continue to provide attractive entertainment experiences to the readers through these initiatives, as well as to further increase the value of its artists and works.

*1 Research by Gaudiy Inc.
*2 NFT (Non-Fungible-Token) -- A token with irreplaceability, including ERC 721, which is a standard for tokens issued on Ethereum.

About Manga app "GANMA!"
GANMA! is a manga app which publishes more than 220 original manga works and hits 14 million downloads in total. Various genres of manga such as suspense, romance, battle, horror, romantic comedy, fantasy, and comedy are distributed every day, and you can read all the original manga series from the first episode to the latest episode for free. In addition, with the subscription service "GANMA! Premium", which offers unlimited reading for a fixed monthly fee, it's not limited to original comics, but you can also enjoy a complete manga lineup with a selection.

■Official website: https://ganma.jp/ *Only available in Japanese

About Gaudiy Inc.
Gaudiy Inc. is a blockchain startup that innovates in the entertainment industry under the mission to create a "fan state" where IP content becomes a lifeline. The purpose is to create a society in which cultural content is a base to support people's lives and self-actualization, not just an entertainment, by estimating and returning the value that fans' creation or support produce.
The Company uses blockchain technology to develop DX businesses and applications with a number of major companies in Japan and overseas that provide entertainment content such as manga, games, and idols. In order to make rapid progress of Japanese entertainment industry, which possesses some of the world's leading content but the development is slowed year by year, it continues to realize its magnificent vision and the best experiences with the partners.

Inquiry about the news:
COMICSMART INC. Obata
E-mail: pr@comicsmart.co.jp

Inquiry about press release:
Septeni Holdings Co., Ltd., Public Relations Division
E-mail: koho@septeni-holdings.co.jp
Twitter: https://twitter.com/Septeni_PR Facebook: https://www.facebook.com/septenigroup

■Profile of COMICSMART INC.
Business: Manga content business
Head office address: Sumitomo Fudosan Shinjuku Grand Tower 11F, 8-17-1
Nishishinjuku, Shinjuku-ku, Tokyo, Japan
Representative: Representative Director , Koki Sato
URL: http://www.comicsmart.co.jp/

■Profile of Septeni Holdings Co., Ltd.
Business: Corporate management and overall control of group companies through ownership of shares and other forms of equity.
Head office address: Sumitomo Fudosan Shinjuku Grand Tower 30F, 8-17-1
Nishishinjuku, Shinjuku-ku, Tokyo, Japan
Representative: Representative Director , Koki Sato
URL: https://www.septeni-holdings.co.jp/en/

■Profile of Gaudiy Inc.
Business: DX business by utilizing blockchain technology
Head office address: 6F, Daiwa Sasaduka building, 1-64-8, Shibuya-ku, Tokyo, Japan
Representative: Representative Director, Yuya Ishikawa
URL: https://hp.gaudiy.com/