Medium-term Business Policies
Medium-term Business Policies
In October 2019, we set "domain expansion" as a new medium-term theme of our Medium-term Business Policy. Since FY2020, with the focus on expanding the domain under this medium-term theme, we have endeavored to expand the scope of business to include areas adjacent to our core business and new areas where we can utilize our expertise.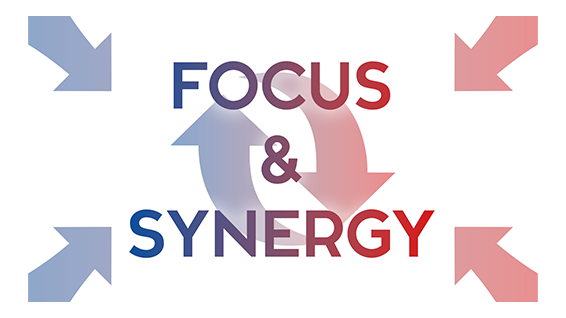 Our Medium-term Business Policy is reviewed every year (rolling method) in order to manage a group that is resilient to environmental changes and able to respond quickly even in the modern age that is difficult to make predictions.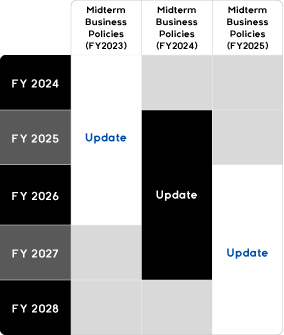 The policies for each segment and the strengthening of management base from FY2023 are as follows.
As the scope of business and organization expand, we aim to enhance the effectiveness of long-term business growth and improve corporate and shareholder value along with policies of each segment, while strengthening our management foundation by updating our corporate philosophy and personnel system.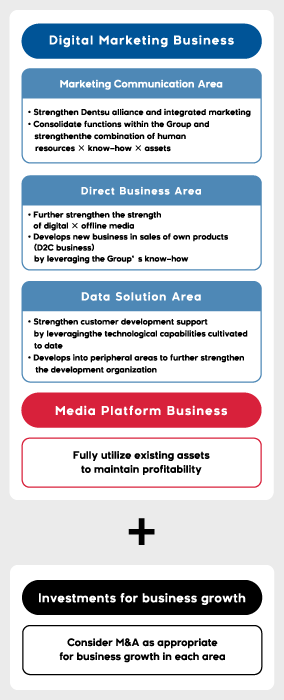 As of November 2022, our quantitative targets for FY2025, three years from now, are revenue of ¥50 billion and Non-GAAP operating profit of ¥9.0 billion. We aim to grow by increasing revenue while expanding existing businesses and expanding into new business segments.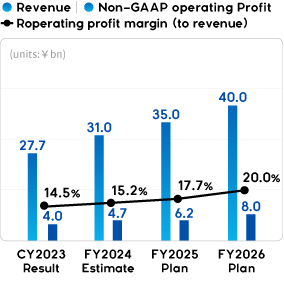 Digital Marketing Business
In the digital advertising area, we will expand our market share and promote DX in the domestic advertising industry by improving our on-off integrated services through the deepening collaboration with the Dentsu Group.

In addition, with the aim of expanding into the data solutions domain, we will support our client companies to promote DX centered on strengthening the expansion of AI products and data solutions services.

Media Platform Business
In the Media Platform Business, we aim to further accelerate the growth of IP Platform Business*.
We will focus on enhancing the value of our 300-plus IP, which have been created in IP Platform Business to date, and accelerating monetization.
In addition, we will strengthen our Webtoon production system with the aim of entering the rapidly growing Webtoon market.
*From FY2023, the Manga Content Business has been renamed IP Platform Business.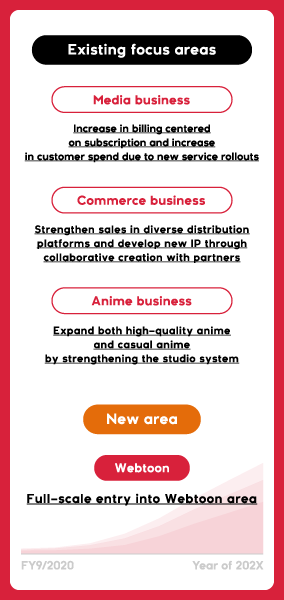 Expansion into New Business Segments
We anticipate that the progress of DX in existing industries will create new growth and potential markets. Thus, we will focus on markets where the nature of industry will be redefined by DX, such as entertainment and sports, and develop businesses in each area.

In addition, we define our data and AI matching technology, which has been accumulated through AI utilization in the personnel field for approximately 20 years, as "Group Intellectual Property." We have launched HR Technology Business, centered on external sales of "HaKaSe", a AI matching system that realizes individual optimization of human resource development.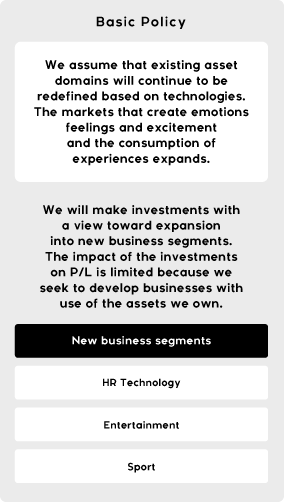 Strengthening Management Foundation
In October 2022, we revised our Corporate Philosophy with the aim of strengthening our management foundation.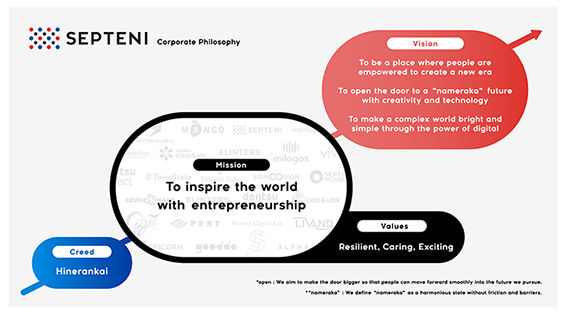 Mission and creed remain unchanged as our unchanging goals and the spirit that we have inherited. Toward the realization of our mission, we have formulated a new vision that sets out medium and long term goals and contribution to society that we want to fulfill.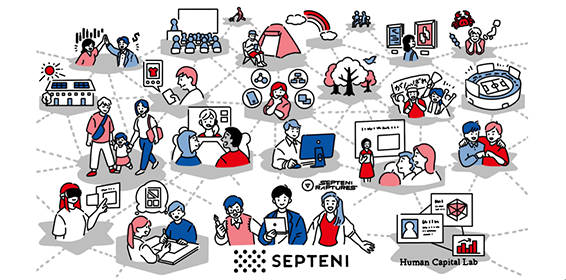 In addition, as we strive to realize our mission and vision, the code of conduct "Septeni Way" has been newly established as our values, "Resilient, Caring, Exciting."
Furthermore, with the aim of enhancing human capital value, we will strengthen human investment, including raising the pay scale and update our personnel system from April 2023.
Through aggressive investment in human capital, we aim to increase corporate and shareholder value by enhancing the value provided to clients and the effectiveness of our efforts for long-term business growth.